Love Your Forever Home? 4 Updates To Age In Place (and the benefits now)
You love your home. You're invested in it financially and emotionally and you'd love to stay forever in it. But, as our bodies age, we might struggle with some of the details of navigation through our home or in the completion of day to day tasks. 
When your knees hurt, it might be harder to use the stairs. When you feel a bit unsteady on your feet, the wet surfaces in the bathroom can feel treacherous. When you're using a walker, a wheelchair, or an aide is coming to the house regularly to assist you, it might be time to consider wider doorways and hallways or a ramp to the front door.
"However, many people make the mistake of waiting too long to make renovations that facilitate aging, says Marianne Cusato, an adjunct associate professor at the University of Notre Dame's School of Architecture. "You don't wait until you have mobility issues to make changes to your house," she says."
No matter if you're 30 or 70, it's always good to examine your home with a critical eye for these details. When you or a friend or relative might need easier access at your house, you'd like for your house to be ready.
Finishes and fixtures to 'Age In Place' 
Looking at a full-scale home renovation, or even a modest update? Knowing what your future self will need as you age in place will help you select your finishes and fixtures. Selecting appropriate updates now will save the need to switch our key components on your home later. 
Some age-in-place updates are easy swaps like ADA approved slip resistant tiles and mobility-inclusive handles on doors and faucets. These updates you can do during a planned home renovation or even as one-off handyman projects. 
Other updates require an eye for design and space planning sensitive to the rest of the home's layout. 
For example, in one of our projects, we converted a small family "den" into a main level master and moved the laundry from the basement up to the main level with a curbless shower!
Not only did the renovation make functional space out of the existing floor plan, but the main-level laundry and master is a smart move as stairs become more tedious. 
In The Bathroom
Two ways to make your primary bath age-in-place friendly include having plenty of space to maneuver (whether that be a walker, wheelchair, or just to remove tripping hazards) and installing a curbless shower.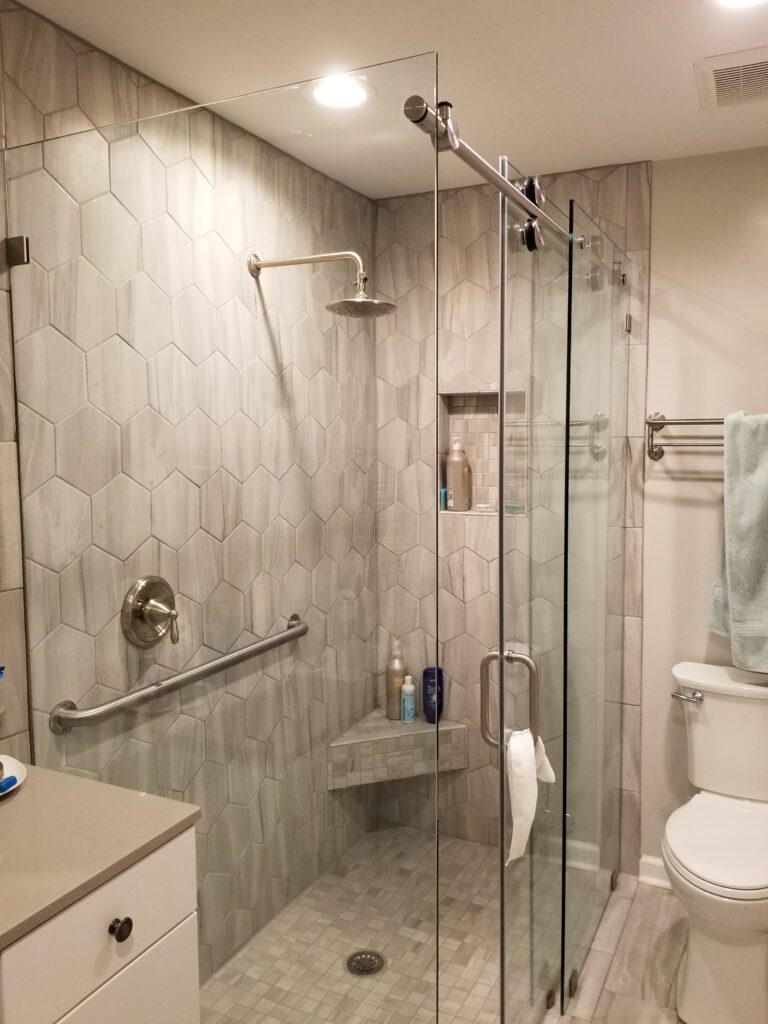 Early Renovation Benefit
These updates are not only ADA-compliant, but they can really look like luxurious updates in your bathroom. The curbless shower feels very spa-like, and you can't argue with a bathroom that has elbow room!
For one veteran and his family, we completely reimagined the 2 main bathrooms in his house to create one comfortable ADA bathroom layout and one functional hall bath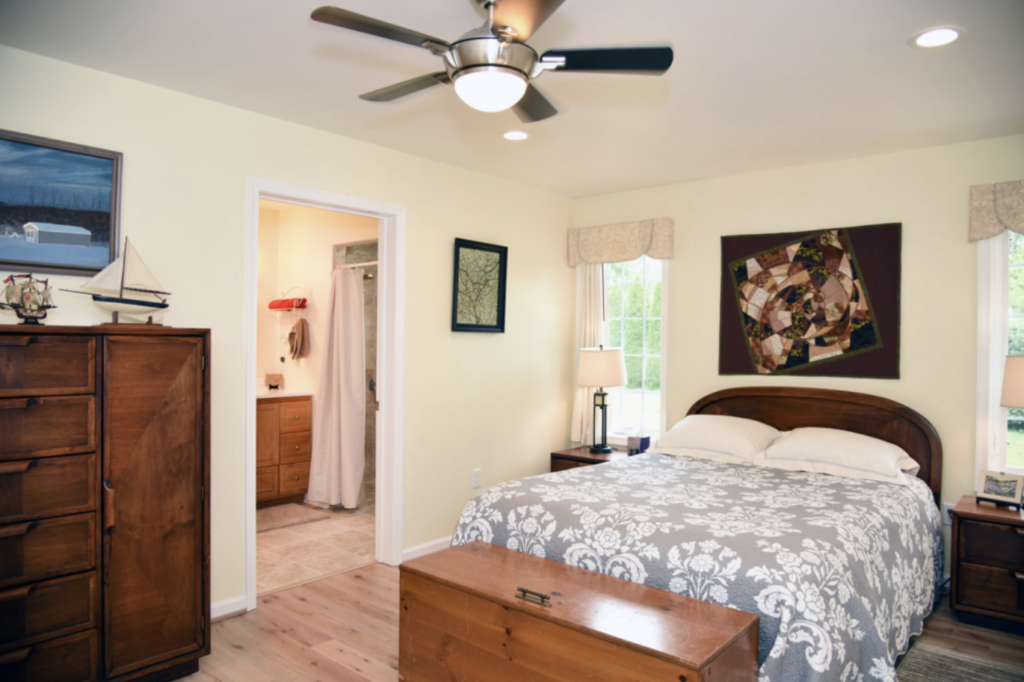 In The Kitchen
When it's time to refresh your kitchen, space is your friend. Experts recommend 42-48" space between counters for the best mobility for seniors in the kitchen. Working in seated work stations to the new kitchen plan also makes 'the heart of the home' a comfortable and safe place to be for homeowners who wish to age in place.  
Early Renovation Benefit
As with having some extra space in the bathroom, enlarging the pathways around your kitchen gives this hard-working space an air of luxury. Plus, it is so much easier to accommodate more cooks in a space with more maneuverability.
For those with children and grandchildren, seated workstations in the kitchen make it so much easier to involve little hands in cooking or crafting projects. 
Guest Space
Another client was ready to fully embrace aging-in-place for their forever home. We created a master suite addition complete with private sitting areas, a wheelchair-accessible master bathroom and an upstairs suite for an imagined live-in aide. 


Early Renovation Benefit
You don't have to look too far in the future to imagine all the benefits of building out a guest suite. Hosting overnight friends and family, having a comfortable room for your hobbies, or a separate office space all make wonderful uses of an additional private suite.   
Main Floor Checklist 
Even Surfaces
Turn Around Access
Easy To Operate Appliances 
Wider Doorways
Grip Bars In Bath Area, Front Door
Accessibility Updates to Upper Levels or –
Main Floor Bedroom 
Main Floor Full Bathroom
Guest Suite Option For Live-In Aide (upper or lower level)
When you're ready to examine how your home could better function for aging in place or simply easier navigation, contact us. 
We can study ideas to transition to the front door, create more comfortable hallways and doorways or consider a new main level master addition!