Defining 6 Helpful Architect Services You Might See When Building Your Custom Home or Office
We've set out to demystify these common terms for our most popular architectural services. Read on to discover all the various ways – with examples – that we save our clients time, money, and sanity.
We cover: Feasibility Studies, Architectural Engineering, Building Spatial Planning, Sustainable Design, Adaptive Reuse, and Master Planning.
Scroll down to 'Adaptive Reuse' for a great before and after.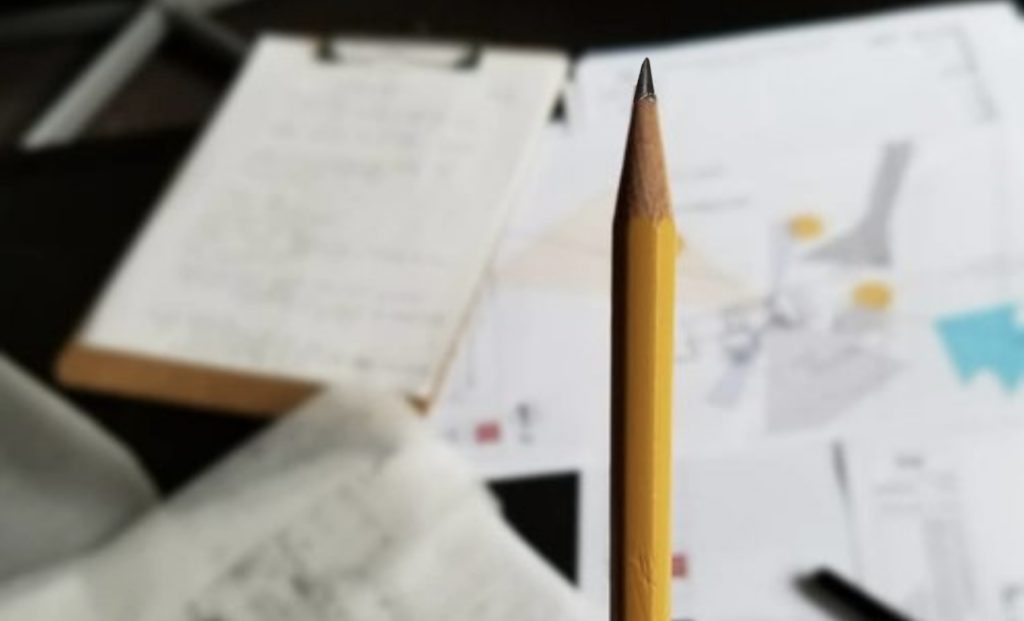 Feasibility Studies
What is a Feasibility Study?
A Feasibility Study evaluates the land or existing building and surrounding area⁠ to determine if a version of the proposed project can move forward. In a Feasibility study, we're looking at the terrain opportunities of a site as well as the zoning or code implications for the building, project or program which might include historical information as well.
⁠
For the smoothest outcome, we start – and sometimes close a chapter on a design idea – with a Feasibility Study.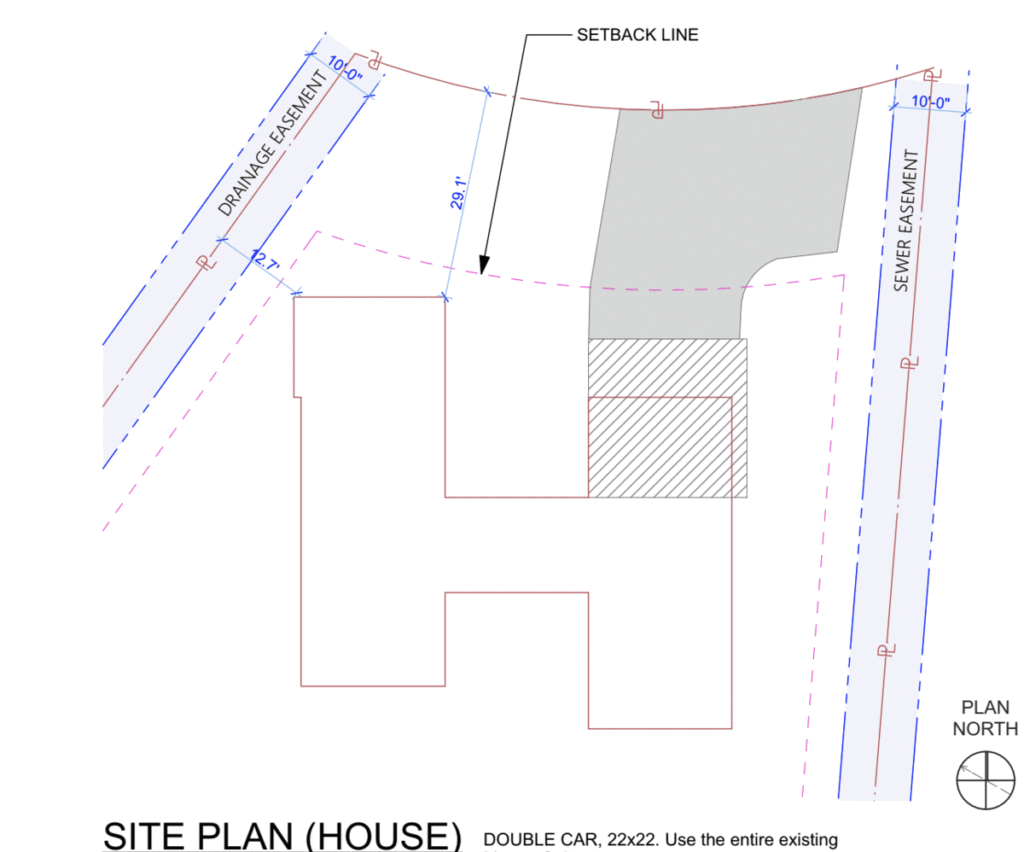 One of our favorite examples of the impact of a real-world Feasibility Study is when a client approached us about an extensive renovation of their family home. The idea was to add a garage and an additional downstairs master suite that would be ADA compliant so they could "
age
 in place
", while also gaining better use and flow of the home. 
How It Helped 
The feasibility study showed them that they simply couldn't get everything they needed out of their existing home. They decided not to renovate, but rather build a custom home that perfectly addressed all their wants and needs.
Architectural Engineering 
What Is Architectural Engineering? 
Architectural Engineering studies everything from the planning, design, construction, and operation of buildings.⁠ It examines the structural needs of the building for the specific site, as well as the intended use of the building, especially to account for the weight of the building itself and its occupants.⁠
On the inside, Architectural Engineering specifies the environmental systems (like electric, plumbing, and HVAC) needs into a given build and includes any overall code and ADA compliance requirements. ⁠
⁠
However, it's not just about the nerdy details.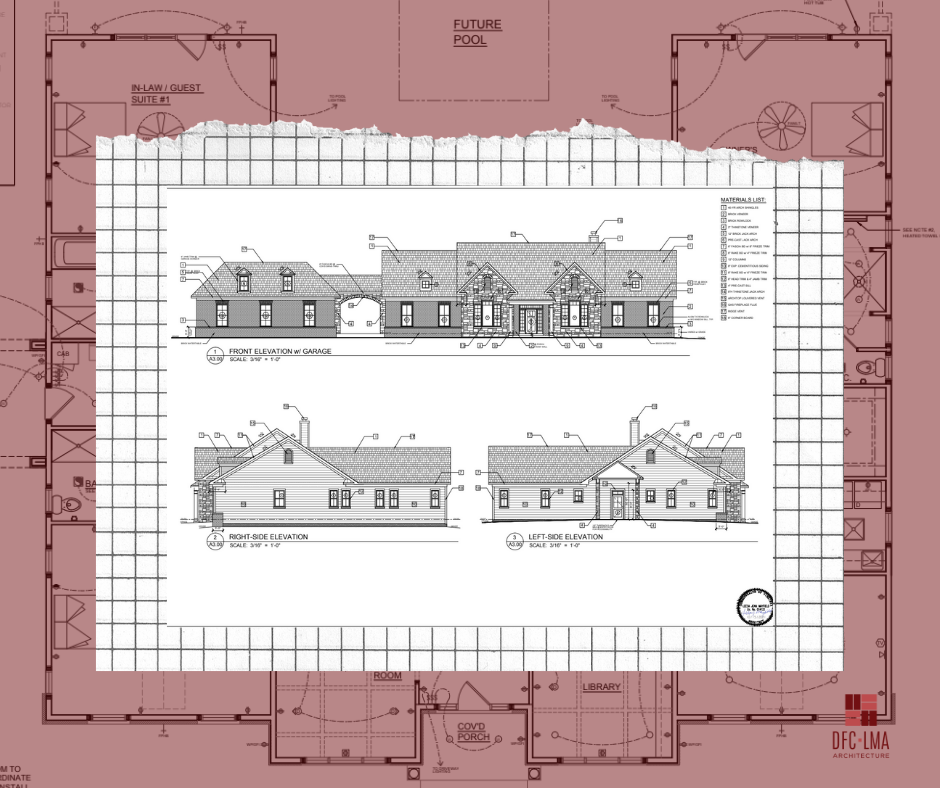 For example, in a project that has just broke ground, our clients had a big vision: build a home on a single footprint for three unique families spanning two generations.
The homeowners came to us with a need to accommodate three private bedroom suites — one for the homeowners, and one for her parents, and one for his parents. A natural extension of this design for the family includes a great room comfortable enough for all three couples to gather.  A generous pool, patio, and pool house comprise the outdoor living space in the private backyard.
How It Helped 
From the large scope to the material details, the Architectural & Engineering Plans for this complex project keep everything running smoothly. 
Building Spatial Planning 
What Is Building Spatial Planning? 
In Building Spatial Planning, we work with homeowners and businesses to define what rooms and tasks in the room go where, and what they are adjacent to. 
From occupancy to task delineation, a  locally-based business needed to have a fool-proof plan for their Training Center's renovation.
How It Helped
As you can see from the careful arrangement of task areas, the people working in this building everyday are able to easily navigate the space and remain productive – without running from corner to corner to accomplish a single task. 
Spatial Planning is one of those things that when it's done right, everything works as it should. However, if it is not addressed, everything seems terribly "off". It's the service you never knew impacts your life and productivity every day.
Sustainability 
Everyday Sustainability
Before we get into the "Green Building" type of Sustainable design that you initially may think of, we want to touch on a part of every project that improves the sustainability of any new build or addition.
This type of "everyday sustainability" that occurs in each project is Climate Responsive design. 
These concepts require no mechanical or electrical systems to work to our advantage.
How is 
mapping the sun
 and wind patterns sustainable on conventional build sites?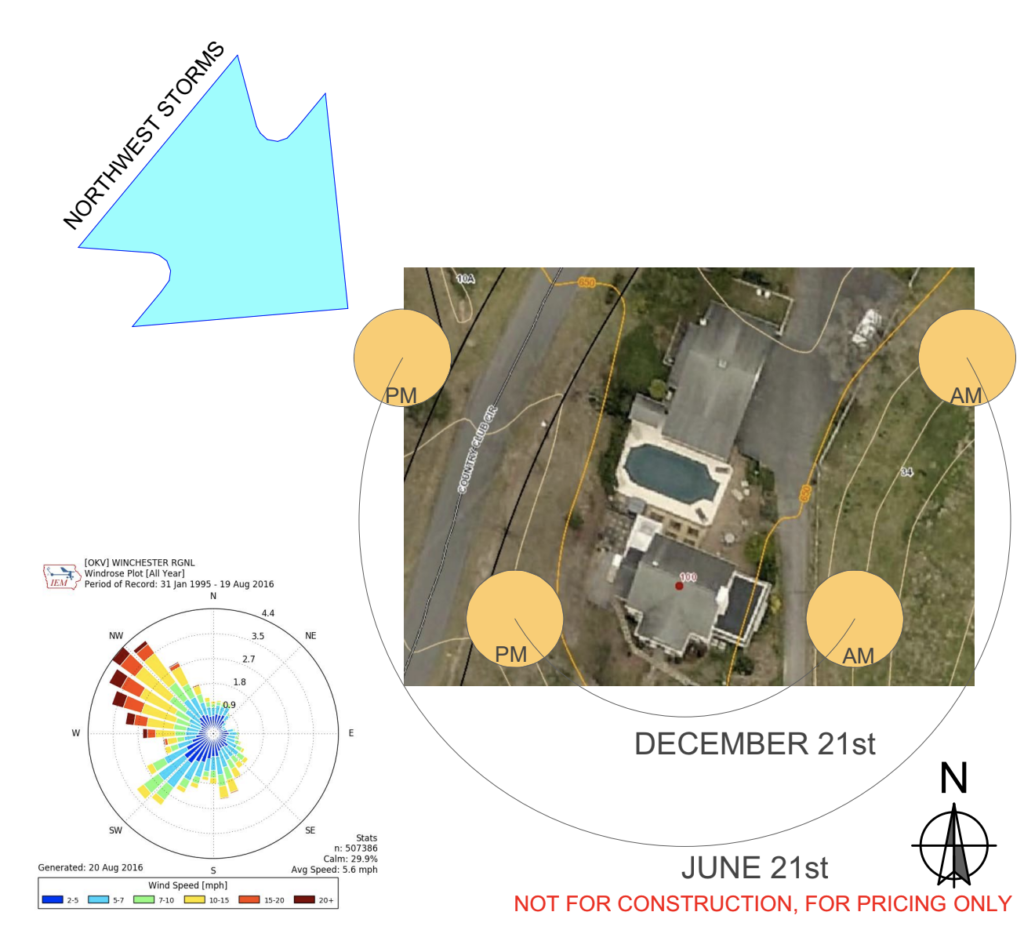 For example, in a renovation project that included opposite exterior spaces on our client's home, we let the solar and wind maps that we prepared inform our best course of action for the edition. 
Our clients main request was an expansion of the master bedroom suite on the east side of the second. They also wanted to include a small covered porch area on the north-west side of the home.
How It Helped
In this project, lots of details contributed to a great climate-responsive design. With a request to leave the third floor window in place, the space will continue to receive the morning sunlight – even in winter. In designing second floor primary bedroom addition, the large 'airy' windows are placed sensitive to comfortable light and heat, especially in the summer.
Downstairs, the covered or side blocked porch will provide some shade from summer's strong afternoon sun and increase comfortable living space, reducing need for compensation of central cooling.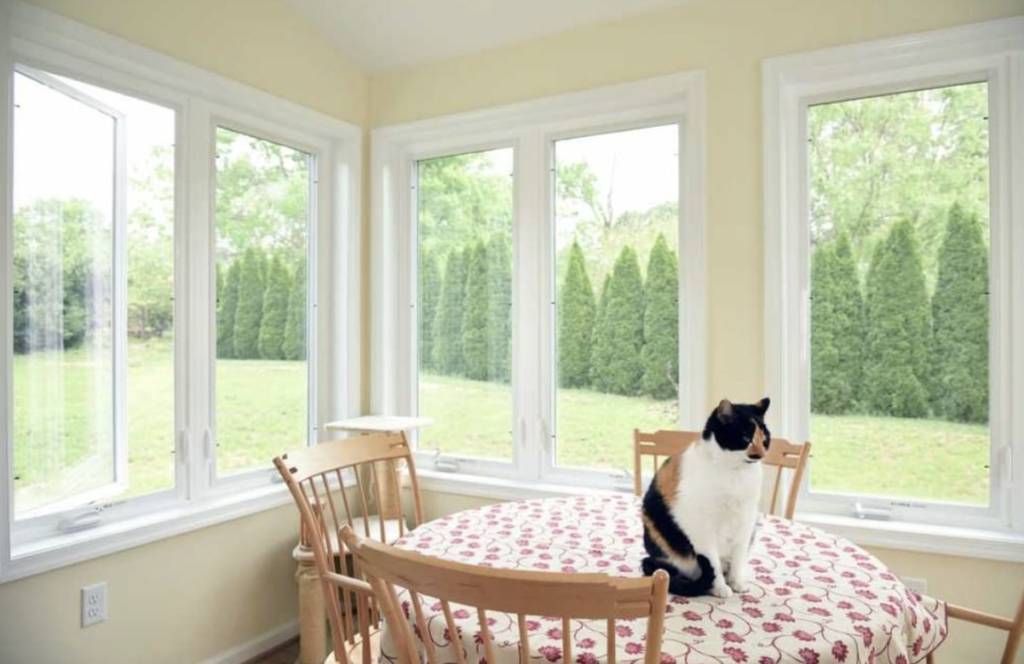 Do you have a room in your house that is always cool – or always a bit too hot? We can study the climate-responsiveness of the space to make suggestions that will improve your thermal comfort. 
What Is Sustainable Design?
Sustainable Design aims to minimize or conserve the use of resources⁠ – from the building process all the way to the living in the completed space. ⁠In the design and build of the new space, materials are usually sourced locally and the life cycle of each material is considered before selection.
Often, the climate control of the completed building will rely on sustainable sources of energy like wind or solar – or even the biomass of the earth.⁠ Homes and commercial buildings designed in this way are intended to be a long-lasting and beautiful new part of the surrounding environment ⁠
In our "Passive Solar House" project, we set out to develop our client's initial plan to include the passive heating and cooling elements, as well as collaborating on many other elements of the design.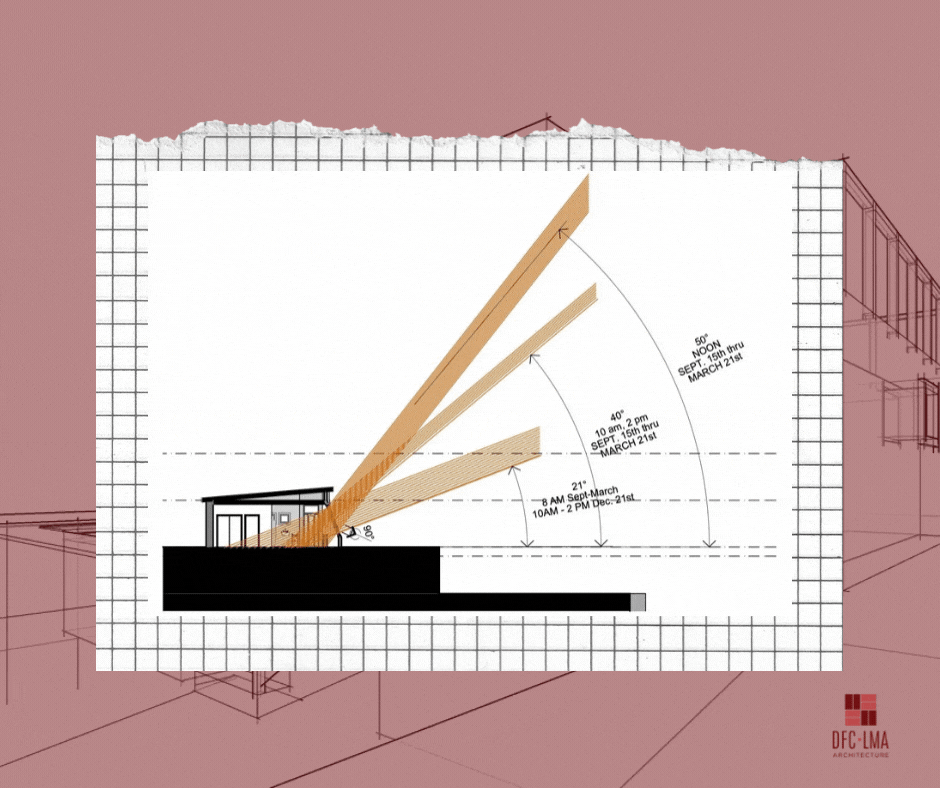 The owner's main source of heat will be from the sun through large windows over an interior planting area facing southeast. Fans will circulate the warm air. In the summer, vents will open to allow for cross circulation and on the worst heating or cooling days, the owner can retreat to a conditioned room upstairs over the garage.
How It Helped
Since achieving any level of sustainable building requires careful study and forethought, the success of each of these projects was dependent on the collaboration and work of a dream team.
Adaptive Reuse 
What Is Adaptive Reuse?
Adaptive Reuse is a rather grand way to describe what historic cities, like Winchester, have been practically implementing on existing structures since the beginning. With every factory-turned-apartments, there was an architect there to guide the property owner in the right direction.
Simply put, it is the transformation of existing structures for modern uses⁠. It's a sustainable solution to updating spaces, especially in cities⁠. 


An added benefit – or perhaps the main allure – is that adaptive reuse retains and improves the character of historic facades that would otherwise not solicit proper investment or upkeep⁠ and results in one-of-a-kind spaces for the client and the community⁠.
⁠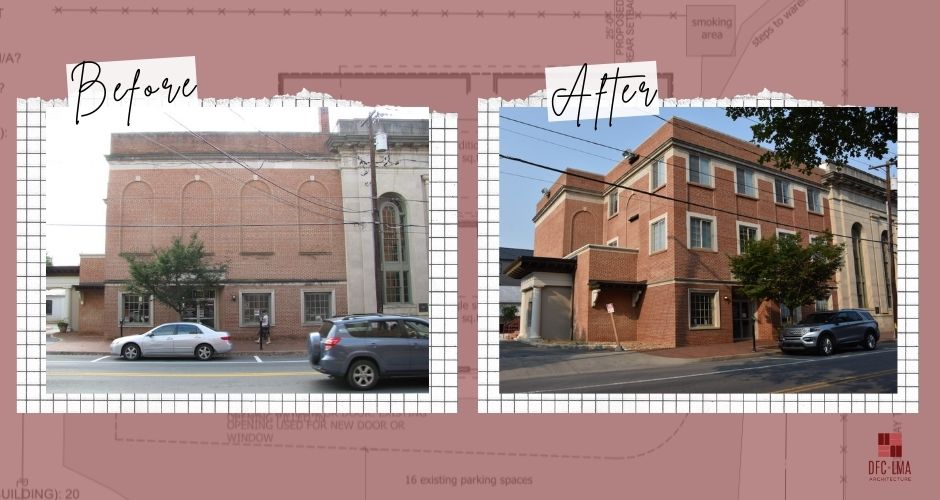 Upstairs, on the inside, you can see the concrete beams in this old bank contrasted with the comfortable, modern kitchen. The main level interior has been designed to accommodate an event center capable of hosting large crowds. 
How It Helped
In this project, and in many other Adaptive Reuse projects, we turned a historic single-use building into a multi-use complex fit for a growing, modernizing city.
Master Planning
What Is Master Planning?
Master Planning is the long-term picture – phasing the project for our residential clients, or determining what building to build first on a commercial campus.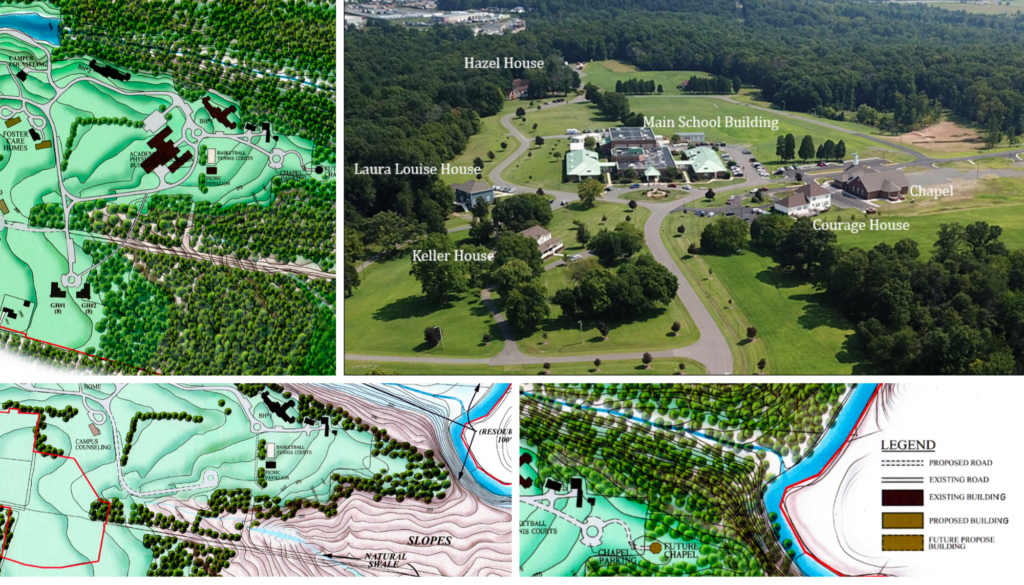 How It Helped
The campus at Youth For Tomorrow didn't always include the six campus buildings that it has today. In fact, the campus was designed and phased in specific detail. The goal was to continue to provide services to the kids who relied on their programs, while scaling up towards the final campus. The master plan allowed the organization to confidently never skip a beat.
 
In reality, most of the projects here (and maybe the project that you're thinking about beginning) require more than one of these services for a successful outcome. 
From 
Pre-Design to Pricing
, our process encourages the exploration of all the unique possibilities and constraints for a specific project and open communication on how our findings support your goals – or ultimately save you from a faulty investment.  Then, you can feel confident in the final design and build of your dream space.
Are you thinking about starting a project in the next year? We'd love to make your dream a reality while saving you time, money, and sanity.